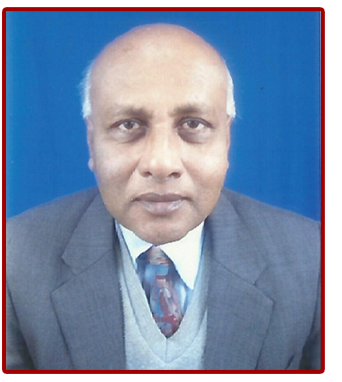 Mr. Umesh Narayan Panjiar (Rtd.) IAS
Mr. Umesh Narayan Panjiar is an IAS officer of 1973 Batch of Bihar Cadre. He was born on 2nd October, 1950 in the district town of Madhubani in Bihar. He passed his secondary school examination in 1963 securing 3rd position in the State. He topped the Pre-University (Science) examination in 1964 and stood second in B.Sc. Part-I examination in 1965, both from Ranchi University. He did B.Sc. (Physics Hons.) in 1967 securing 3rd position in the University and did his Master's Degree in Physics securing 2nd position, both from Patna University. He has also done LLB from Magadh University and M.Sc. in National Development and Project Planning from the University of Bradford (U.K.) in 1990.
He taught Physics in Patna University from 1971 to 1973 before joining IAS in 1973. He has held many important positions in Government of India including Joint Secretary, Ministry of Non Conventional Energy Sources (1994-1999); DG, National Productivity Council (2005); Additional Secretary/Special Secretary, Ministry of Power (2006); Secretary (Border Management), Ministry of Home Affairs, (2007) and Secretary in the Ministry of Water Resources (2008-2010).
In the Govt. of Bihar he has worked as Home Commissioner (1999-2002); Finance Commissioner (2002-2005); Special Secretary, Rural Development (1986-1989); Additional Industrial Development Commissioner (1992-1994); Additional Director of Industries/Special Secretary, Industry (1981-1984). He also served as Sub-divisional Officer, District Magistrate and Divisional Commissioner.
He has participated in a number of government delegations and bilateral talks and led a number of delegations to the USA, UK, France, Spain, Germany, Switzerland, Sweden, Denmark, Austria, Netherland, Egypt, Kenya, Pakistan, Nepal, Bhutan, Bangladesh, Philippines, Taiwan, Singapore, Indonesia, Japan, Australia, Brazil and Tajikistan. He has also led Indian delegation for bilateral talks with Nepal, Bhutan and Bangladesh.
He has rich experience in energy sector which includes his tenure as Joint Secretary in the erstwhile Ministry of Non-Conventional Energy Sources (renamed as MNRE) from February 1994 to January 1999; Ex-Officio Member of erstwhile Bihar State Electricity Board in his capacity as Commissioner and Secretary, Finance Department, Govt. of Bihar from November 2002 to May 2005 and Additional Secretary/Special Secretary in the Ministry of Power from January 2006 to January 2007. He worked as Chairman of Bihar Electricity Regulatory Commission from 10th March 2011 to 1st October,2015. Currently, he is working as Chairman, State Appellate Authority for School Teachers and non-teaching staff since 1st December, 2015.